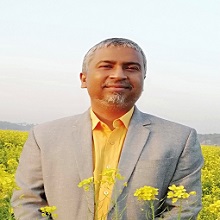 Abdullah Mohammad Shohael, Ph.D.
Founding Director, Science Porter Bangladesh
Science Porter Bangladesh is a science communication platform aiming to deliver real scientific information to general people in their language. Infodemic is harmful like a pandemic, it is our duty to avoid misinformation and disinformation. Attainment of public trust can control any type of infodemic and Science communication can increase public trust by the elimination of misleading information and wrong concepts.
Our thinking is global though we are now acting locally. Our dedicated youth members are making difference in society by delivering true scientific information. We are determined to build a strong platform gathering citizens as scientists, exploring frugal ideas and their applications to solve the problems. To build a climate aware nation, our motivation is always stepping ahead in every corner of society.